After a year of research and community outreach, plans for a revitalized Memorial Park are moving closer to completion. The new design will provide recreational opportunities for all ages and abilities, improve upon dated facilities, and increase connectivity with more bikeways and walkways.
What's Changing
Many of the park's new features will occupy space that is currently not in use. The plan would turn many areas of empty lawn or plants into a multi-age playground and nature play area, additional picnic areas, upgraded bathrooms, a passive garden walk, and a bocce court. It would also include more bike paths and walkways throughout the park.
What's Staying the Same
Some of the park's most prominent features will remain unchanged. These include the Veteran's Memorial, tennis courts, main event lawn, amphitheater and stage (with upgrades), gazebo picnic area, and Quinlan Community Center & Senior Center.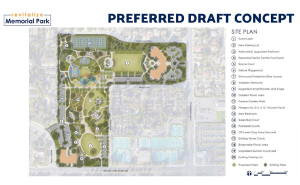 Source: Memorial Park Preferred Draft Concept, Presented 6/21/23
Next Steps
In order to move forward, the Cupertino City Council must approve the final Memorial Park plan. While most of the park plan put forth by city staff appears to have council support, one controversial feature generated much debate during the June 21st City Council meeting: the proposed elimination of the softball field.
Reasons for keeping the softball field:
High usage from at least 16 teams per week, including the Cupertino Girls Softball League and senior groups

Desirability of Memorial Park softball facilities versus neighboring fields (has lighting for nighttime games, a larger size appropriate for adult slow-pitch softball, and home run fencing)

Positive revenue impact for Cupertino from players who frequent its businesses before and after games, and pay fees to the City

Cost savings for Cupertino due to reduced scope of construction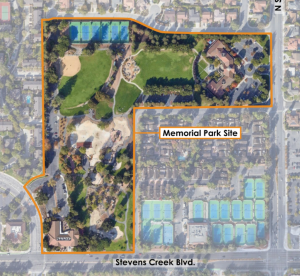 Source: EngageCupertino.org
Reasons for eliminating the softball field:
Community feedback. In the initial survey, respondents ranked the softball field as their least favorite feature of the park. However, via public comments during the June 21st council meeting, residents argued that not enough people had taken the survey to make it representative, and that the nature of the survey questions was flawed.

Freeing up space for other features, such as basketball and pickleball courts
After hearing public comments, the Council voted to have staff present a schematic plan including the softball field. Councilmember Kitty Moore suggested piloting a DOLA in the current softball field, since it is already unofficially frequented by many dog owners. This would help address the need for a DOLA in Memorial Park, and ensure it is kept in the final park plan even if the softball field is kept. Others suggested having fewer new parking spaces or decreasing event lawn space (formerly the drained ponds) in order to make way for the basketball and pickleball courts.
When can we expect Memorial Park renovations to begin?
During the June 21st meeting, City Manager Pamela Wu stated that we can expect construction to begin "as early as two years from today". This would mean mid- to late 2025. However, significant changes to the plan would result in delays. The revised schematic plan is expected to be presented in a December 2023 or January 2024 City Council meeting.
How much will the Memorial Park renovations cost?
While cost estimates have not been provided, one should expect such a large-scale renovation to cost significantly more than the Jollyman Park playground renovation, which will cost about $5M for a much smaller footprint. The only portion of the project that has been funded is the design phase, with a $650,000 budget. Given that Cupertino is currently in a budget deficit and is cutting events and services, it remains to be seen how the city will fund such a large-scale park reconstruction.
"The City is facing a very tight budget now, so I hope that staff can come back with a more economical version of the plan," stated Council Member Liang Chao during the June 21st meeting. "This has been done before. Usually in the first round, people propose a lot of ideas, and it's very costly. Then usually we will come back with a more realistic and economical plan. That has happened for the Stevens Creek Corridor before, that has happened with the City Hall."
Chao also questioned whether such a large-scale reconstruction was necessary. "We tried to pack in a lot of stuff in the proposed plan, but we don't have just one park, we have many parks. Many of these nice features, even if they don't get implemented in Memorial Park, they can get implemented in other parks in the city," said Chao. For example, instead of replacing the highly-demanded softball field with basketball courts, residents could use the brand new basketball courts at Wilson Park.
"We spent $1.7M filling in the ponds and replacing them with grass," said Chao during the meeting. "We should be in no rush to make a decision."
Learn more about the Memorial Park specific plan here.