Sheila Mohan is one of the candidates for the Cupertino City Council Elections.
Is she the right choice for our city?
Supported by those who forced CUSD School Closure
Councilwomen Hung Wei expressed strong opposition to the City Council writing to CUSD to review their decision to close schools. Hung Wei is actively campaigning for Sheila
Sheila is endorsed by CUSD board member Sylvia Leong who advocated for school closure.
She has little skin in the game to empathize with the children and parents who are affected by CUSD anti-children decisions.
Why is Sheila Running?
Sheila's last term as a commissioner ended more than 15 years ago (Jan 2007, Library Commission). .
Embezzlement Scam
In 2013-2014 Sheila was employed by the City of Cupertino as Finance Director; this overlapped with the period where there was a
major embezzlement scam in the city ($790K)
. She has conveniently chosen not to mention that even though that was her most recent engagement with the city!
And a recent audit of the city's processes showed big gaps in
financial processes
something the Finance Director overseas.
As residents' we did wonder why Sheila who had withdrawn her engagement with the city many years ago, chose to run for City Council in 2022?
But the mystery seems to have cleared itself!
A recent
article
Sheila says, that she is running because some people asked her to run!
"So, when longterm city leaders asked her to run for office, Mohan polled her family. They were all in. Mohan says her 14 year old granddaughter supported her decision so she could "tell my friends that my grandmother is running for city council!"
Sheila is also endorsed by ex-mayors who were on city council when the embezzlement occurred, and who are endorsing the school-closures.
Campaign Paid for By…
A Google Search for Sheila Mohan resulted in an advertisement paid for Santa Clara County Supervisor Cindy Chavez' campaign for Mayor of San Jose!
Her campaign has a lot of construction industry interests, including air-conditioning and electrical companies, plumbing unions, and ex-officials who have been promoting the school closing trustees.
Sheila is also NOT participating int he City of Cupertino's Voluntary Campaign Expenditure Limit Program.
Questions to Think About?: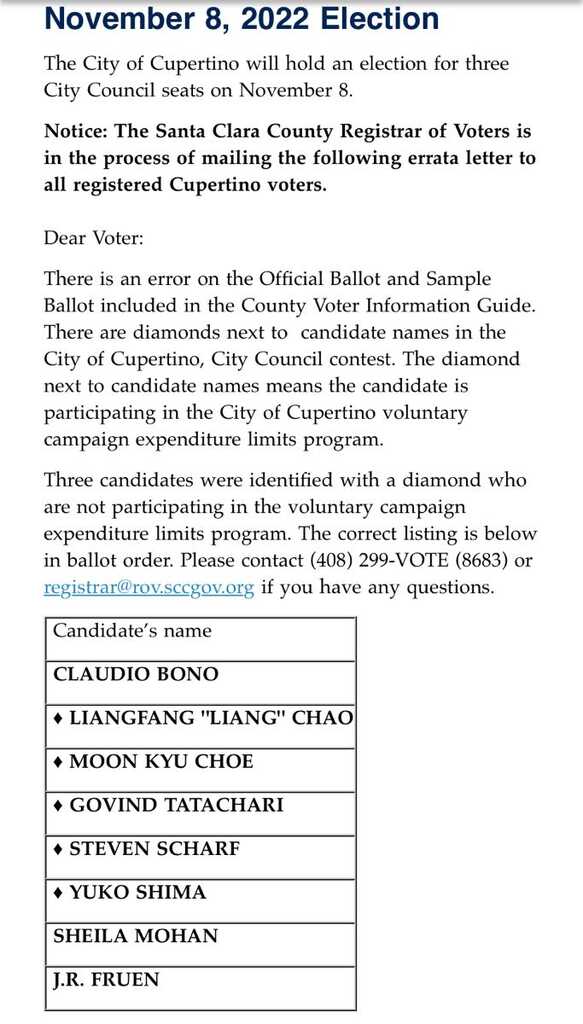 Why does her campaign has to be financed by an out of town politician?
Why her donors include construction industry and unions?
Why she is not participating in the voluntary campaign spending limit program?
It is obvious that Sheila is running to rubber-stamp investor interests.
Is Sheila the Right Choice?
Sheila's outreach towards the community has been limited, her website does not have much specifics on policy positions and also hides that she was the Finance Director when the embezzlement was happening.
Given what is at stake here, we the residents should not take a chance on a candidate whose campaign is being sponsored by those advocating for CUSD school closure.
Please vote for those who have a taken public stand against school closure.
Please vote for Govind Tatachari, Steven Scharf & Liang Chao for Cupertino City Council
Together they can take steps to roll-back the school closure, and also prepare the City to welcome future residents, who will make the many thousands of new residences in the pipeline, their home.